PAN-FRIED STEAK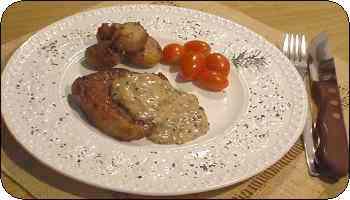 Spoil the men with a tasty piece of rump! Pan-fried steak retains its lovely meat flavour and the meat is done in just a few minutes.
Ingredients:
Rump steak – allow 200-300g per person
2 tablespoons (30 ml) olive oil
Method:
Trim steak of visible fat, and cut in portions (or ask the butcher to cut portions to your preference beforehand).
Sprinkle both sides of meat with meat tenderiser and leave for 30 minutes.
Heat the oil in a cast iron griddle pan – the pan should be smoking.
Sprinkle both sides of meat with Steak & chops seasoning, then add to the pan and brown quickly.
Turn heat down. Cook meat until done to preference: rare no more than 5 minutes in total, medium-rare about 7 minutes, medium 8 – 10 minutes and well-done 10 – 12 minutes in total.
Sprinkle more Steak & Chops seasoning on the meat while cooking.
Serve hot with chips or baked potato and salads – and don't forget the pepper sauce!
Tips:
To ensure perfect cooking, use a cooking fork/ meat thermometer.

(c) 2002 ID Agentskappe en Verspreiders BK